Financial Services
When Your Business Is Built On Trust, Your IT Isn't Just Important… It's Critical!
You already know this. When your IT is working, so is your firm. When it isn't, your firm is in trouble. What IT means in the Financial Services field is very different from what it means in other fields. The main reasons for this is security and compliance. Security and compliance in the Financial Services field is all encompassing and as a result, your IT infrastructure, operations and processes must take this into account.
InhouseCIO redefines IT support for Financial Services firms by utilizing "Fortune 500" strategy and IT management tools to proactively manage and support your entire IT infrastructure. Our flat-rate services include unlimited onsite and remote technical support, proactive monitoring, disaster recovery and backup of your data. No matter whether the size of your firm, InhouseCIO provides a complete solution for securing, supporting and managing the IT infrastructure and operations for your firm.
We are more than just computer technicians on the other end of the phone. We are a complete team of technology professionals.
Why work with InhouseCIO?
We provide IT support and services to the financial services community.
We offer on-site support, remote support and 24/7 monitoring.
Our team is friendly, knowledgeable and has financial services experience.
We customize solutions for your Financial Services firm no matter the size.
We focus on providing the best customer experience in the industry!
We make the job of running and securing your firm easier!
You have access to a complete team of IT professionals at a fraction of the cost!
No one talks computerese to me…

When InhouseCIO says they are going to fix something, it actually gets fixed in a timely manner, and stays fixed too. No one talks computerese to me, they explain in plain language what needs to be explained, leaving out all of the tech talk.
Susan DeKoker
Children's Research Triangle
InhouseCIO was a life saver…

InhouseCIO was a life saver to our district when we were in a situation where our technology director had to be out for an extended medical leave. They were quickly able to come to our rescue and addressed numerous concerns that had been present for a period of time. Communication is frequent and open.
...Read More
Tonya Evans
Central Community Unit School District #4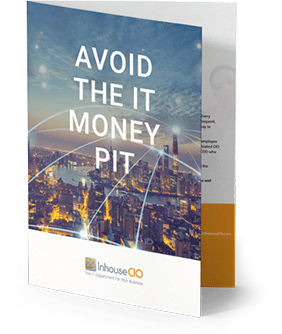 Avoid the IT Money Pit
Stop wasting money on IT services and use this
proven plan.