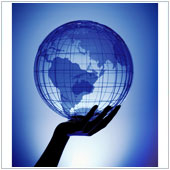 One of the defining characteristics of a business owner is the often overwhelming feeling that they must do everything themselves. Some entrepreneurs are not great at delegating within their company, let alone to specialists outside. This can cause problems, especially when you realize that you aren't an expert, and could use a little help. For many business owners this realization comes about when they tackle their IT systems and ensuing problems. One solution could be to outsource IT.
Outsourcing IT is a bit different than the usual outsourcing you get in factories, or support services. Instead of going overseas, you can partner with a Managed Service Provider (MSP) in your local area. MSPs provide comprehensive IT management services which usually cover everything tech related.
Working with an MSP often has a direct impact on your bottom line, and can help make your company even more successful than it already is, or at least increase profits to get you there. However, there are many more reasons companies outsource. Below are our Top Five:
5 reasons why you should outsource IT
Increased control of operational costs - Most MSPs group their services together into monthly plans, meaning you have one cost associated with the IT department. Overhead expenses such as staffing, overtime hours, and operational costs, as well as software licenses, etc., are all included in a flat monthly fee. This makes it easier for you to control IT related costs, while also saving money.
Take focus away from IT, refocus on business functions - Technology is great and a necessity of running most modern businesses but it does break and become either worn out or outdated. Seemingly endless tech issues can take your focus away from key business functions. MSPs take care of all this, allowing you to re-focus your efforts and energies into running your business.
Access to better resources - The best and newest tech is often pricey; well beyond the budget of a vast majority of small and medium sized businesses. This is further compounded by the fact that you likely can't afford to hire the new employees needed to to run these systems either. MSPs can provide the latest tech along with the experience to support it, allowing you to get more for less.
IT functions are beyond current abilities - If you are like most small to medium companies, you have a few staff who are designated as computer experts, even though that may not be their main role or responsibility. Or it could be the case that you and your colleagues simply lack the knowledge and experience required to run increasingly complex technical systems. The employees at MSPs eat, sleep and breathe tech, and can provide enterprise level IT support and knowledge.
Reduced risk from IT failure - Technical systems are built to be robust. However, they aren't perfect and will eventually fail. This could mean lengthy downtime, increased costs and lost data. Managed Service Providers reduce this risk by actively monitoring your systems and offering back-up services which will reduce productivity loss and lost business.
3 things you can expect from an MSP
There are a wide variety of MSPs, serving many industries, but there are three things you should expect from any MSP.
Flexibility - IT companies have access to a wide variety of vendors, tech and resources. This means they should be able to develop scalable solutions that meet your companies needs as you grow.
Product experts - The main business objective of an MSP is to provide IT services.To do this they need employees who know their stuff. To get the best, most hire staff with specific qualifications and certifications and experience with the systems offered.
Long-run cost savings - In the short-term it is entirely plausible that internal staff are cheaper than a monthly MSP. Factor in the cost of purchasing technology, maintaining it, plus the cost of recovery, and the cost of retaining an internal IT team will skyrocket. Most companies you outsource to offer a flat rate monthly fee, and will be able to maintain your systems longer. This means lower replacement costs and increased uptime, which in the long run make outsourcing a viable, cost-efficient option.
If you are tired of IT problems and cost overruns, contact us today to see what we can do for you.
Published with permission from TechAdvisory.org.
Source.