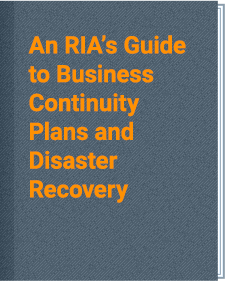 An RIA's Guide to Business Continuity Plans and Disaster Recovery
Is your RIA firm resilient enough to withstand short or long-term interruptions to its operations?
From catastrophic weather, cyber threats, or technical vulnerabilities, every RIA firm has to face the reality that there are unforeseen risks that can have an impact on their operations. A business continuity plan and a disaster recovery plan are essential to help you understand your risks, and equally important is the actual implementation of those plans as part of regular business operations. In fact, according to the SBA, 25% of businesses do not reopen after a major disaster.
The impacts of downtime
Our guide covers some direct and indirect costs of downtime including:
Lost or unhappy clients.
Negative impacts on your brand or reputation.
Disgruntled employees.
Three steps to improved disaster recovery planning
Learn more about:
Step 1 Recognizing the need and importance
Step 2 Impact analysis and risk assessment
Step 3 Look to recent tech trends that simplify planning
Important! We hate spam as much (or more!) than you and promise to NEVER rent, share, or abuse your e-mail address and contact information in any way.